(serves 2)
200g arborio rice (or other risotto rice - Carnaroli is more expensive but will absorb more stock, and is more forgiving if you overcook)
75ml dry white wine
1/2 medium onion, finely diced
1 clove of garlic, crushed
2 litres stock (see below)
15g butter, diced and kept in refrigerator until use
15g of Grana Padano cheese (or Parmesan, but Grana is the cooking version)
Find a wide-bottomed pan with high (say 6-7cm) sides.  Soften the onion until translucent.  Turn the heat up full and add the rice and stir for a minute or so to 'toast' it up (this helps it absorb stock - but don't let the onion burn).  Salt and pepper.  Add the garlic and stir for 30 seconds.  Add the wine, stir, and reduce to almost nothing.  Add the stock (which should be boiling gently) one ladle at a time, until the rice is almost cooked (bear in mind the rice will continue to cook after you put it into bowls).  Salt and pepper after each addition of stock (see below).  Remove from the heat and whisk (ie using a large whisk) in the butter and Grana until the risotto is creamy, and final seasoning.  This is a great
basic risotto
.  Perfectly good by itself, but …
For a
prawn risotto
, buy green (raw) prawns.  Make a
prawn stock
with the heads and shells, rinse then put in a pot with carrot, onion skins and celery stalk (maybe some parsley stalks).  Cover with water and bring to the boil, then simmer gently for 15 minutes (30 if you want something more intense), and strain.  This stock has no seasoning, so do it in the risotto.  Cut each prawn in three and marinate in olive oil and salt at room temperature.  Prepare some saffron with a pinch in a small bowl with warm water (at least 1 hour but preferably more).  Add the saffron strands and water with the first ladles of stock.  You might wish to add some peas near the end.  Finish the risotto first and cover to rest, then fry the prawns, and serve on top of the risotto.
For a
cauliflower risotto
, a
chicken stock
is good (if you're not a vegetarian or a chicken).  2kgs of chicken thighs, with carrot, onion skins and celery stalk (maybe some parsley), covered with water, will yield about 3kgs of jellified stock, which can be diluted 50:50 to use.  The best way is to use a pressure cooker (half an hour), but an hour simmering in a firm saucepan will be fine.  Make it the day before, stand in the fridge overnight, and skim off the excess chicken fat before use.  The thighs themselves will still have flavoursome meat on them.  Make the risotto as above (adding a little extra cheese), but adding a good hunk of finely diced cauliflower base to the onion.  Cut about 100gm of cauliflower florets (bitesized) per person, and cook them in the stock as you make the risotto.  You can also fry/brown them before adding to the rice after whisking.  This risotto benefits from a '
pangrattato
', breadcrumbs browned (not blackened) in olive oil with some anchovies, garlic and as much dried chilli as you think appropriate.
Another variation is a
Taleggio risotto
with the same 'basic' recipe as above, but with the Italian semi-soft cheese Taleggio substituted for the Grana.  It will take some stirring in, and gives a very unctuous result.  About 30g will give flavour, and goes well in the cauliflower version above.  More indulgent would be 60g for the 2 servings, which is very rich (and wonderful by itself) but would be better in smaller serves (eg 4 as a starter).  It also benefits from a pangrattato.
(serves at least 8)
1 pork neck (1.5 - 2.0 kg)
Handful (each) of fennel and coriander seeds (roughly ground)
4 bay leaves
1 star anise
8 anchovies
4 cloves garlic (crushed)
Quarter cup of red wine vinegar
Half cup of red wine
1 large red onion
2 large carrots
Smear the anchovies and crushed garlic, and the crushed fennel and coriander seeds (and plenty of salt and pepper), over the neck (and into the fold if the neck is rolled up).  Drizzle with the red wine vinegar and a quarter a cup of red wine, and marinate overnight (if possible).
Cut the onion and carrots into large chunks, place on the bottom of a baking pan with the neck on top, and any remaining marinade in the bottom (and a little more wine if necessary - it should be moist).  Add the bay leaves and star anise.  Cover and cook in a pre-heated oven at 190c for 2 hours, then 150c for a further 3 hours.  If it is not fall-apart by then, check your oven (or butcher!). 
For some
sauce
, mash up the veges in the bottom of the pan (some of the carrots are worth keeping to serve), add the rest of the red wine (or some water) and heat and stir.  Push through a sieve and decide whether there is excess fat to be skimmed.  A knob of butter can help.
Goes very well with oven roasted potatoes (including sweet potatoes).  A good '
warm green salad
' to go with it includes: a handful each of thick fried lardons and equally thick sourdough croutons, 2 handfuls each of rocket and lettuce, handfuls of chopped chives, chopped walnuts, 100gm of good quality blue cheese (eg Roquefort or St Augur), with a vinaigrette (olive oil, red wine vinegar, french mustard, seasoning).
The inevitable leftovers can form the basis of a great
ragu
, with the addition of some passata.
(makes 6 but see note below)
375 ml bottle of beer
375 g of self-raising flour (3:1 white and wholemeal) sifted
1 tspn salt
Pre-heat the oven to 180c.  Mix all the ingredients together until not lumpy (no kneading required).  The mixture for these was split evenly into 6 mini-bread tins, but they would make more if you had smaller tins (in which case maybe reduce the cooking time slightly).  Bake for 30 minutes, then (optional) add a milk glaze and bake for 5 minutes more on fan to attempt to brown them.  Neither too 'cakey' nor requiring any real kneading/resting effort.  Surprisingly good the next day.
Bow-tie pasta with Cannellini beans
(serves 6)
500 g dried bow-tie pasta
400 g (net) tin of Cannellini beans (or dried and rehydrated then cooked)
1 handful of pine nuts (preferably toasted)
100 grams of provolone cheese
Olive oil
2 cloves garlic (crushed)
Boil the pasta as directed in salted water.  The pine nuts can be dry-toasted in a frying pan on a medium heat in about 3 minutes (watch and turn frequently and remove when browned).  The provolone cheese should be chopped to pine-nut sized pieces.  The beans (if using canned) should be rinsed well to remove excess salt.
Heat a generous amount of olive oil in a pan to a medium heat.  Soften the garlic (don't over-cook).  Add the beans to warm up (they are already cooked) and to infuse the flavours.  Stir through the pasta, pine nuts and cheese, and transfer immediately to a serving plate.
This can be served as a hot pasta dish (a starter), or cooled to use as a pasta salad.  If using as a cold salad, cool the pasta under some cold water in the last step before mixing it in (it will keep cooking otherwise and become too soft).
(serves 4)
120gm chocolate
4 eggs
Break up the chocolate and heat in a bowl over simmering water.  Remove it as soon as the chocolate starts to melt and cool slightly (you don't want to scramble the egg yolks). Separate the egg whites and whip them to soft peaks.  
I prefer chocolate with about 50% cocoa solids - but if you use a higher (say 70%) version you might want to add a teaspoon or so of caster sugar to the egg whites at this stage.  Use a good quality chocolate because that will be most of the flavour you get in the mousse.
Stir the egg yolks into the melted chocolate (Alert: I don't consider the egg yolks are 'cooked' so warn your guests as appropriate!), as well as a teaspoon of flavouring (such as Grand Marnier) if desired.  Stir in a third of the beaten egg whites first, and then carefully fold in the rest.
I use individual shot glasses (see picture), but it could also be set in a single container and spooned out.  Refrigerate for a few hours (or overnight) before eating.  
(Thanks to - I think - Elizabeth David)
(serves 4-6)
400g Calasparra (Spanish) rice (but Arborio will substitute)
1 litre chicken/seafood stock (see notes above) - boiling
400g mixed seafood (prawns, squid rings, white fish, mussels)
4 x chicken thighs
100g chorizo
50g speck (or similar)
1 medium Spanish onion (chopped)
1/2 red capsicum (chopped)
2 cloves of garlic (crushed)
Pinch of saffron (soaked in warm water)
1 tspn smoked paprika
Lemon wedges to serve
Cut the seafood and chicken into large pieces.  I prefer the squid tube cut into rings. Chop the chorizo and speck into smaller pieces. If you have a paella pan (say 14" diameter for this dish), the middle 'wok burner' included on some cooktops is good for getting heat to the whole of the pan.  
Heat some olive oil.  Soften the onion and capsicum for 2 minutes.  Then add the chicken, chorizo and speck, and fry until the chicken is browned.  Add the crushed garlic and cook briefly.  Then add the rice and toast for a short time (it will absorb the stock better). Add the stock, plus the saffron and paprika.  Season well if you are using homemade (unsalted) stock.  Stir well and bring to a boil, but don't stir again (this isn't like a risotto, and the 'crusty' bottom layer which emerges at the end is considered a sign of success).  Cover (tinfoil is fine), reduce heat to a simmer and cook for about 10 minutes.
Remove the cover and arrange the seafood pieces on the top, pressing them in slightly (to cook better).  Cover again and cook for 5 minutes.  After that time the mussel shells should have opened (discard any that haven't).  Check the rice is cooked.  Turn the prawns and fish (to show off the colour underneath - they will continue to cook in the pan on the way to the table).  Scatter with parsley and serve with lemon wedges.
(Serves 4 - 6 - it's pretty unctuous)
1/2 bottle of medium-bodied red wine
1/2 onion, roughly chopped
1 medium carrot, roughly chopped
2 garlic cloves, peeled and squashed
Small bunch of parsley and a
 sprig of thyme
100g bacon lardons or speck cut into cubes
8 - 10 small eschallots (peeled)
A bunch of baby carrots (foliage removed)
500g beef cheeks, cut into large chunks
300g oxtail (or one big joint)
Combine the wine (Italian varietals are usually good) with the chopped onion, carrot, garlic and herbs in a pan, bring to the boil, and simmer lightly for 30 minutes until reduced by half. 
Heat the oven to 150c.  
Heat the oil and butter in a large casserole over a medium-high heat and add the speck. Fry until golden, then remove and set aside.
Sauté
the baby carrots and mushrooms 
until golden, then remove. Add the
eschallots
, and 

sauté

 until just brown, then remove. Roll the beef (and oxtail joint) in the flour and seasoning. 
Fry the beef (and oxtail) in small batches until crusted and brown (add more oil if required). Set aside.
Turn up the heat, a
dd the brandy to the pan and deglaze. Strain in the reduced wine (without the vegetables), and the stock. Return the beef cheeks and oxtail and bring to a simmer.
Cover and bake for two and a half hours.  Add the eschallots, mushrooms and carrots, c
heck the seasoning, 
and bake for another 1/2 hour.
Strip the meat from
the oxtail. Stir back into the pan with the speck cubes and season to taste. 
Along with bread, a good accompaniment is

polenta (or sadza if you're a Shona)

.  There are many different types of polenta (including semi-prepared, so 'check the packet instructions' for preparation).  For 4 people, try
1/2 cup 
of 
coarse yellow polenta, sprinkle into 2 cups of boiling stock, season if necessary, bring back to the boil, place on low heat, and whisk every few minutes for (approximately) 30 minutes.  It should not be 'grainy' to taste.  At the end, add a handful of grated parmesan (or grana).
(Adapted from a great recipe by 
Felicity Cloake)
​​​​​​​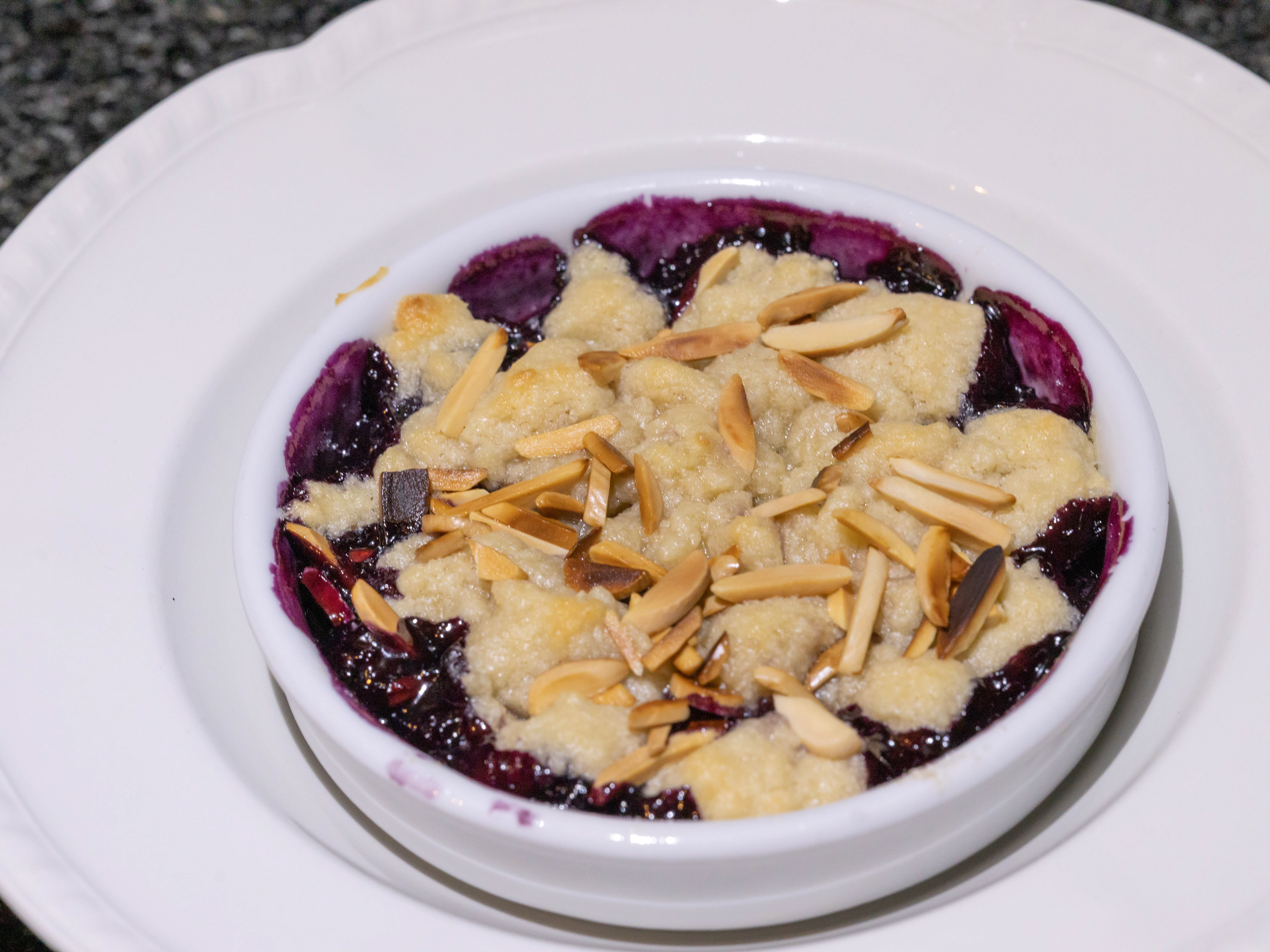 500g blueberries (frozen & defrosted are fine)
20g extra 
golden castor sugar
Handful of toasted slivered (or flaked almonds)
Grease 4 individual baking dishes (the above are 12cm
Crème brûlée dishes)
. This could also be done in a larger single dish - the idea being to have sufficient fruit to cover the bottom, with the crumble filling up to the lip of the dish.  The cooking time may vary.  
Preheat oven to 200C.  
Briefly pulse the flour, ground almonds and sugar in a processor until it has a consistency like breadcrumbs.  Add a very small amount of cold water and pulse (or stir) briefly until it clumps. 
Arrange the blueberries to cover the bottom of each ramekin.  At this stage you can drizzle with a little 
liqueur (eg Grand Marnier) if desired.  Sprinkle with the extra sugar.  Top with the crumble mixture, and scatter the toasted almonds.  
Bake for 20 - 25 minutes, until bubbling and golden-brown.  Rest for 10 minutes, and serve with cream (or ice cream or sour cream).
360g fresh cherries (pitted and halved)
1 large egg (or 2 small ones) lightly beaten
First macerate the cherries with the brandy and sugar.  I don't recommend bottled / tinned cherries (too much syrup/juice, too little flavour), so this is a late-summer recipe when fresh cherries are tasty and cheap.
Grease 4 individual baking dishes (eg 12cm
Crème brûlée dishes)
. This could also be done in a larger single dish - the idea being for the cherries to cover the bottom of the dish/es, with the batter filling up just below the lip of the dish.  The cooking time may then vary.  Preheat oven to 180C.
Combine the flour and extra castor sugar (and a pinch of salt), then whisk in the eggs, milk and butter until smooth (it should be quite runny).  Add the almond essence.  
Arrange the cherries in the baking dishes and cover with the batter.  Bake for 20 - 30 minutes, until the batter is golden-brown.  
Rest for 10 minutes, and serve with cream (or ice cream or sour cream).
(makes 8 - 16)
1 tsp fast-action dried yeast
180ml warm water
Pinch of caster sugar
120g plain natural yoghurt 
250g plain flour
250g strong flour
Mix the yeast, small amount of sugar (to feed it) and water, and leave for 10 - 15 minutes to start to froth.  If you see nothing, it's possible the yeast has been there for a decade, and is no longer useful.  In which case, start again with new yeast ...
Mix the flours, yoghurt, yeast and a tsp salt, and kneed for several minutes until smooth.  This is a very dry mix, and will take some effort to kneed.  Depending upon the size flatbreads you want, divide into 8 or 16 balls.  These will yield either (8) side-plate sized, or (16) half side-plate sized breads, always depending upon how thin you roll them out.  Set aside on a tray (under a tea towel) and allow to double in size (about an hour).
Cooking involves some options.  Yottam (whose recipe this is loosely adapted from) fries them in ghee (clarified butter).  I find this ends up a little greasy.  If you have an electric home pizza oven, then these will cook very quickly (ie about 45 seconds per batch depending on the size).  Otherwise dry frying in a frying pan (with a small coating of oil) and flipping after about 30 seconds will get a similar result.
(Serves 8-10 - in a 25cm tart tin)
Pastry:
200g plain flour
1 tbsp icing sugar
100g cubed butter
1 medium egg (whisked)
Filling:
3 eggs (whisked)
225g castor sugar
150g desiccated coconut 
1 tsp ground cinnamon
125g melted butter (cooled slightly before use)
For the
pastry
, combine the flour, icing sugar and butter (eg in a food processor) to 'bread crumb' stage.  Add enough egg that it pulses together into one lump.  Don't overwork.  Cover and leave to rest for 1 hour.  Pre-heat over to 180C.
Roll out on a floured surface until the size of the tin (and sides), and press into the tin (should be about 2 - 3mm).  'Repair' any gaps in the masonry with leftover pastry.  Line roughly with baking paper, and fill with baking beans.  Bake for 15 - 20m, remover the baking paper and beans, and bake for an additional 5 minutes.  This is a great all-purpose pastry.
For the filling, hand-whisk together the ingredients until relatively smooth.  Fill the tart shell and smooth out.  Bake for 30 - 35 minutes, until golden brown.  Best eaten warm with double cream.
(serves 4)
2 cups full cream milk
50g castor sugar
1 tsp vanilla paste
4 'gold' gelatine leaves (see note)
[Note on gelatine (thanks to Stephanie Alexander!): it comes in powdered and 'leaf' form.  1 tsp of powdered (about 2g) is the same as one 'gold' leaf.  One 'titanium' leaf = about 1.4 'gold' leafs.  In my experience.  So pack your calculator.  Many recipes don't tell you exactly what they mean, so beware.  The resulting Panna cotta should wobble lubriciously ...]
Dissolve the sugar in the milk on low heat.  Add the vanilla paste (or 1 vanilla pod, scraped), and set aside to cool a little.  Soak the gelatine leaves in cold water (about 5 minutes or until soft).  Squeeze out as much water from the gelatine as possible and add to the mixture.  Whisk until combined.
Grease 4 x 1/2 cup (125ml) moulds and fill with the mixture.  Refrigerate until set (2 - 3 hours).  If necessary, dip (briefly) in boiling water to remove from the moulds.  Great with fresh fruit or a strawberry compote.